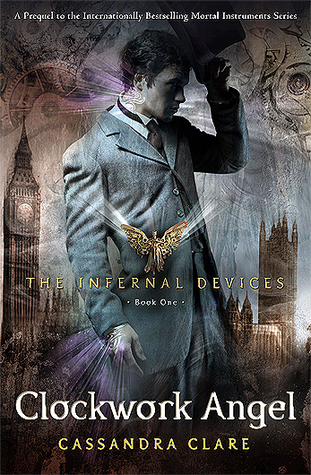 Book: Clockwork Angel by Cassandra Clare
My rating: 5 of 5 stars
I wanted to start my year with a book I knew with 100% certainty would not disappoint. How could I be so sure? Simple: a) it's Cassie Clare; b) it has a Herondale male in it. Whatever my other faults, of wich there are many, I am unable to stay away from Herondale men. I don't know what it is about their DNA that makes them irresistible, all the while being insufferable, but there you have it.
Honestly, I didn't think I'd like it more than Mortal Instruments, I'm not much of a steampunk fanatic (I don't even know if it qualifies as that) and yet I gobbled up this book so fast I got a blister from swiping pages. Yeah, not really but I could've, seriously. That's how good it was. And did I mention how funny the characters are? Never mind Tessa and Will, that's an absolute requirement for them to be funny, but hell, I just loved Jem and Henry too. Jessie not so much. Just when I start to think there must be more to her than what meets the eye, she turns around and proves me wrong. I got a feeling she might become a problem.
I got a little frustrated by the end of the book over Will's behavior, he was just URGH! I might have punched a pillow couple of times, but that's really normal when it comes to Herondales. Again, they are insufferable, but they're worth it in the end. I'm looking forward to the next book.
Over and out