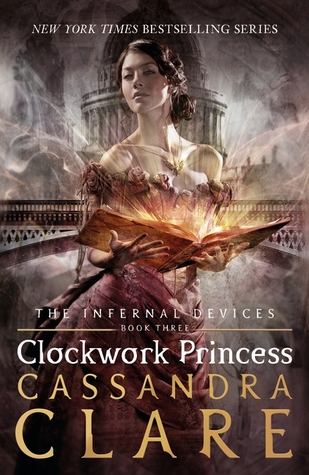 Book: Clockwork Princess by Cassandra Clare
My rating: 4 of 5 stars
I can't take it anymore. It's the fifth time I had to go to the bathroom to blow out my nose and wash my face. IT IS RIDICULOUS!!!! TMI, I know. I needed a distraction so here I am writing to you, guys.

However much I loved The Mortal Instruments, admittedly it doesn't hold a candle to The Infernal Devices's brilliance. It's not only in the main characters, although, DUH! It's in the setting, but more importantly, it's in the language. Everything seems better when it's said in the elegance and manner of Victorian England.
And then there is this triangle of love (not to be mistaken for the love triangle) that is Will/Tessa/Jem. They changed everything for me, I'm not sure I could ever read another Shadowhunter novel or series without looking for them between the lines. They shined so brightly! In my mind they are forever and ever remain an inseparable trio. If that's denial I'm ok with it, it's called a bliss for a reason.
Now that that's out of the way, there is one thing I felt I needed to address because it bothered me greatly throughout this last book. Multiple POV's. It was maddening how short they were and how fast they changed. Just when I was about to get comfortable in someone's head, I was thrown knee deep in another one. My mind was dizzy and it was not ok. That is the only reason this book doesn't get a five star rating it shoul've had.
And I think I stopped crying now. It might even hold for … oh, I don't know, five minutes? Don't tell me, I know I'm a crybaby.
Over and out